Hi All

I don't even know where to start, I have been so bad at posting here on my blog. I had a very very busy Christmas season. I could barely keep up. So there was no time to post on my blog. Thank You to all my wonderful customers :-)

I want to share with you what I got for Christmas a Brand New HP Computer for Business, it's awesome it goes so fast, I can have multiple windows open and no slow down!!! I just love my new computer and I got a large flat screen monitor to go with it. I was long overdue for a new computer and monitor. My old one was obsolete a long time ago.

Because it is a Business computer I was able to get Windows XP Professional and I didn't have to settle for Vista. I like XP as you can see.

It was also time for a new sewing machine I had a singer for a couple of years and I was not happy with it's performance so I had been asking around all of last year for a good sewing machine. Well I found that the Janome kept coming up as a good quality sewing machine. Everyone that owns one just loves there machine and would use no other. So I bought myself one it arrived the middle of last week.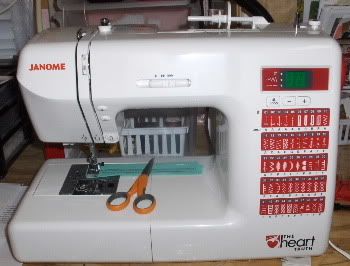 isn't it nice I think so!!! Now I don't know what to do with my singer, it does really look like a nice machine. I think I will just keep it for a backup I guess.

Back to business I just completed my new Raggedy Dollys Website Go over and take a look and let me know what you think. I felt it was time to seperate my two websites, what better time than now with the start of a new year!!!

It took some time to do but I felt it was well worth it. My new website has so many features my old one didn't have, I just love it. So now you all know what I have been doing with all my time and why I have no new raggedy ann dolls on my website.

I am going to change my other website My Country Cottage next but not until I stock my store with new dollys. I will post as soon as I have some new raggedies on my new website!!!

Gotta go now my Janome is calling, I am having so much fun with my new machine. :-)

Thanks for the visit and letting me ramble on.

Rosalie