Just wanted to share a little of what's been going on around here, well I am designing new spring and Easter items and I wanted to share them with you all. Below is a photo of some of my new items. You can find these cuties over at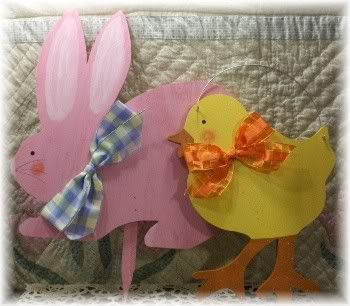 My Country Cottage I just listed them under my New Products Page.

This goofy looking chick is a yard stake and he can only be found at one of my shows or my shops listed here: Show Listing Page Sorry he is to big and costly to ship!!!




I have got a lot more coming. I will post again when I have them all done.

My Sis and her family came out for a visit last weekend and all of us girls went out for a movie night. All the guys stood home and played Texas Hold em, that's been our favorite past time.

We've been holding weekly tournaments with family and friends. The group keeps getting larger and larger . It is a lot of fun to play and we have one winner that takes all each time.

We girls saw "He's Just Not That Into You" It was a cute and funny movie we all enjoyed it, including my 7 month old niece.

She had to go with us but since we went to the last showing late night there was just a couple of other people there. She did great she actually sat and watched the movie. We couldn't stop laughing at her, it was so cute. Wish I had a photo to share with you all.

The next morning us girls went out to breakfast and thrift store shopping we just love all the great stuff you can find there. Well we did find a lot, two car fulls of stuff by the end of the day!!!

Oh I almost forgot to mention I just listed some more aprons over at Raggedy Dollys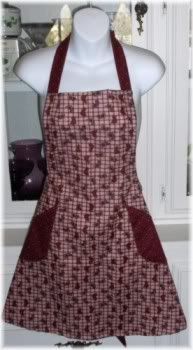 I am working on my orders right now but thought I should let you know I am still here. Just been a little busy more like very busy!!!

Well it's back to work for me and Thanks for stopping by,

Rosalie