Ok I'm back It's was a very busy 2010 for My Country Cottage Signs/Raggedy Dollys! I want to thank all of my customers for a great year!

I have lots to share. Don't know where to start. How about a photo of my Lil Ashlynn with Santa?:


Ok now down to business I am having a problem with my webhost she seems to have fallen off the face of the earth, her website is shut down. My emails to my webhost are returned to me undelivered.
My website My Country Cottage is down right now and is asking you to download firefox. Please don't download anything I don't know why it is asking for you to download and I don't know who could be doing this.
I am working on new websites right now.
Click here: Raggedy Dollys
is finished go take a look and let me know what you think.
We are working on My Country Cottage Signs right now, so I am referring my customers to my
Click Here: Etsy Shop
Until my website is complete. Sorry for any inconvience this may cause you, I will notify you when my website is up and running here on my blog, facebook and twitter!
My favorite Craft Show Sugar Plum Arts & Crafts Festival in Buena Park is next week the show starts Feb. 3rd - 5th.
The count down is at 7 days for me, where does the time go? Still working on my new pieces, can hardly wait to see how they come out. You know when you take your sketchs and make the product it doesn't always come out the way you envisioned it. Anyhow I will share pics of my work in progress, dragged it all in the house to work on last night.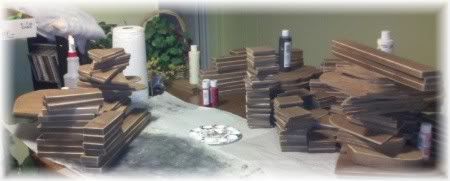 I got a new Droid X phone and loving it the phone can do so much it's amazing! I still have lots to learn, I seem to learn something new daily.
I am having fun taking photos these two were taken with my phone, not to shabby! Now maybe I will have more photos to share with you. I always forget my camera at home.LOL
I will close with this: I ran across this I feel that a lot us can relate including myself actually this is my biggest problem. LOL
OUR RELATIONSHIP WITH FOOD
All of us have to eat. For Women Who Do Too Much, how and what we eat is often problematic. And developing a healthy relationship with food—well, that concept sounds a bit foreign, doesn't it?
Hugs,
Rosalie