A quick post to show you some of my new Halloween and Fall Items I have been working on.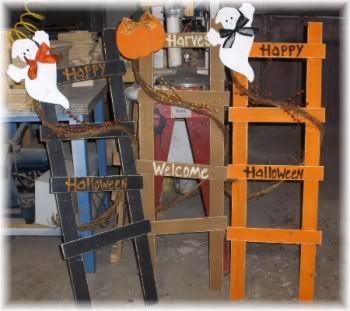 This photo was taken in my workshop just before I delivered these ladders to my shops. If you live locally you can find these Halloween and Fall Ladders over at any one of my three shops you can get the address to the shops over at my website on my Show page

You can find these Large Standing Birdhouses at my stores also!





We carry the birdhouses in different colors and sayings. So come on over for a visit if your in the area.

Sorry I cannot offer these on my website they are to big and heavy to ship.

I want to also let you know I have Fall and Halloween
Raggedy Ann dolls coming real soon. I have got the cutest Halloween prints for there dresses. I will also be introducing my new Cancer Awareness dolls. I will post all info on these new dolls later.

Bye
Rosalie