Well I hope everyone had a great Christmas! We all did we spent Christmas eve over at my sisters and Christmas day at my Mother in laws. All of my family got together at my sisters house we are an extremely large family I have 3 sisters and 1 brother and we all have lots of kids. We all had a great time you should have seen all of the presents in one house it's was crazy. We all got what we wanted from santa and more. I had the pleasure of having all of my family together for Christmas.

I just want to thank all of you for a great year and to let you all know that I have enjoyed all the wonderful friends I have met here on blogland and through my website and shows!!! It has been a very fun journey and I have learned a lot from all of you.

Just to let you all know I will be adding more raggedies and wood signs on my website soon. I have some new sayings for my signs that I think you will enjoy. I went out shopping today and I bought some very cute Valentine fabric.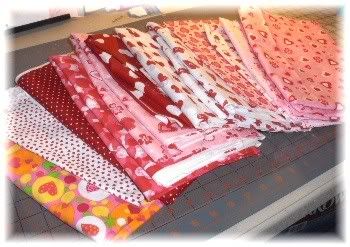 I can hardly wait to use it and sew up some new raggedies for you all!!!

I was extremely busy this holiday season and I am sorry I was not able to add any of my raggedy ann dolls or wood items on my website. I now have everything under control so you will be hearing from me a lot more now that all that rush is over.

Oh I am still fighting this flu just when I think I am getting better it starts right up again. But I guess it might also be that it's been very very cold here and I just can't stay indoors and rest. I am very active and I cannot sit still even when I am sick, there is just to much to get done!!! New dolly and wood ideas and the list goes on and on.

Well I guess that's all my sharing for now. Feel free to comment I'd love to hear how you spent your Christmas Day. Oh if you have any ideas for some new raggedy ann dolls you would like to have me make just let me know. I am always open for new ideas from you all.


Thank You All,
Rosalie