Hi Everyone
I am so sorry it's been along time since I wrote a post here on my blog. I have been sooo busy lately. My friends and I got together and we have a booth over at the Pomona Fair this month it runs till the 30th of Sept. and started on the 7th.

Well I just can't keep up I have been selling my Raggedy Ann dolls everyday since the fair opened. I am up all night sewing away to have more raggedies for the fair.

The gals over at my stores are calling for more Raggedies too, so I guess no sleep for me for awhile. I will be drinking lots and lots of coffee and Tea till the season is over. LOL!!! The season won't be over for me till about a week before Christmas.

This is crazy time over here, starts about this time every year. But the rush is great and thats what keeps me going.

I am also selling these cute gingerbreads I made up for the fair. I also have them listed over at Raggedy Dollys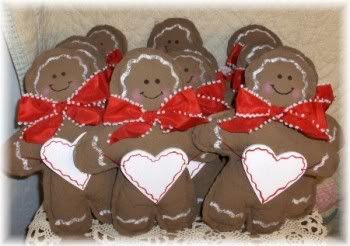 Here are photos of some of the Raggedy Ann Dolls I made for the fair aren't they just so cute? I really like the way they all came out!!! Some of my raggedies are wearing there Halloween dresses and some have on there fall dresses and I do have some with everyday dresses on.

I made them up in three sizes in a large, med and lil raggedy ann doll size. You can see in the first photo below all of the three sizes I made.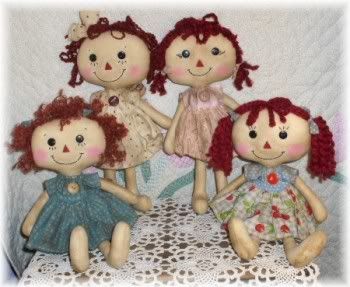 Right now I am working on my raggedies with Christmas dresses. I have customers at the fair asking for my raggedy anns in Christmas dresses so I will be taking some in for them. I guess it's never to early for Christmas.

If you attend the Pomona Fair come by for a visit were in Building #8 the holiday one with the snow in it. It's all set up for the kiddies to play in the snow even though it's over 100 degrees outdoors. Well it has cooled down a little, what a heat wave we have had, record breaking hot weather for us here in Calif. Sure makes it kinda hard to work under these conditions.

I will be adding my dolls with Halloween and fall dresses to my website soon, I promise!!!

I will post photos of my raggedies in there christmas dresses. So you can all see how they came out. I am also working on a new line of raggedy ann ornaments for your christmas tree. I will post photos when those are done, so far they are coming out cute.

I have a gingerbread girl dolly in the works she will have on a christmas print dress just like my raggedy ann dolls dresses, so cute!!! I have so many new ideas for this year, I will keep you posted on all of them.

Well that's all for now back to the sewing machine for me.

Oh did I mention I also have orders for my wood items LOL!!!

Bye,
Rosalie