I had a great Halloween I spent it with my cutie pie granddaughter Ashlynn. We took her out trick or treating around the neighborhood. She had a great time, they were filling her pumpkin up with candy. Her first time out she was only 6 mos.and didn't know what was going on.

My daughter rarely lets Ashlynn have any sweets, so when she tasted her lollipop she would not let go of her pumpkin filled with all that candy. She would not let anyone have any of her candies. She is so cute!!! We all laughed at how she hung on to her pumpkin.

Here are photos of Ashlynn she was a cheerleader!!!




We had to run after Ashlynn to take these photos my daughter and I with our cameras!
Ashlynn was having fun making us run around after her to take her pic.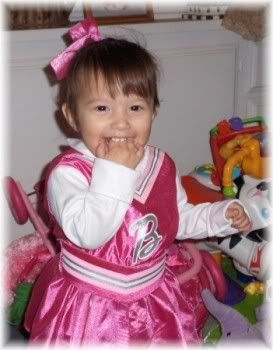 She finally stopped here and gave us a pose.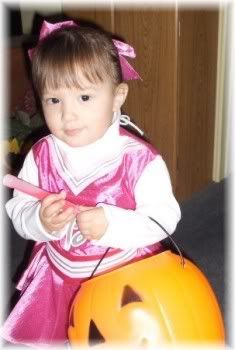 Ashlynn also had a couple of glow sticks she just loved those things. She was trying to open it to see what was inside of the stick very curious Lil girl.

I am sooo lucky to have them down the street from me.

That's all for now just wanted to share these photos with you. I am a very proud grandma as you can see!

Bye,
Rosalie