Hi girls

I know it's been a while since I posted but my daughter and I were getting ready for my grandaughter's Birthday Party. Happy Birthday Ashlynn!!! I cannot believe she is 2 already boy does time fly. Well it was this past Sat. and it turned out good we all had a lot of fun and food!!! My daughter has the photos from the party so when I get them from her I will post them on here.

I finished up a special order for a Raggedy Ann doll for a baby. I would like to share the photo of her with you.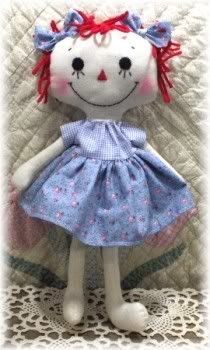 You can see her over at my website Raggedy Dollys

She is lightly stuffed and each strand of her hair is hand tied so it can't be pulled off. She is not coffee stained and her face is all handstitched. I really like the way this Raggedy Ann came out she is so soft and cuddly. Right now she is traveling to her new home.

I am finishing up some more dolls to add to my website. I have a couple of new ones on there now and I will be adding more later this week.

Well back to work for me I am sewing my new Raggedy gals dresses right now. All of the raggedy gals are done there just waiting on there dresses and bloomers. I will do a post when I add them on.

Bye and Thanks for stopping by!!!