I just had to share with you all this photo of my Lil Raggedies with real Lil shoes and anklet socks, they came out so cute!!!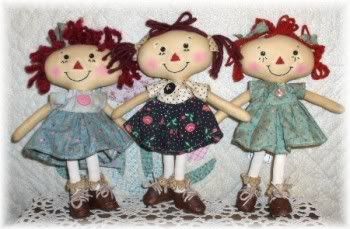 These Lil Dollys sold out at the fair, but I will be making more. I will post when I have listed them over at my website.

Here is a photo of a Wood Witch Boot and Primitive Halloween Sign I have listed over at My Country
Cottage Go over to our Halloween section and take a look!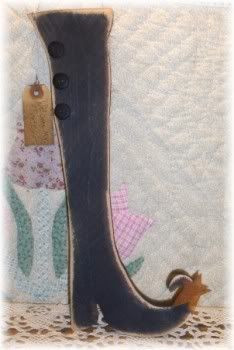 Here is a sneak peek at my Christmas Annie Ornies coming soon!!!




I have to share this story with you my hubby and I went over to Best Buy yesterday and purchased our first mp3 player. Yes I know they have been out for a long long time now. But I was always afraid they would be to hard to figure out and I just did not have the time right now (ever) to try to figure out something new.

Well we went ahead and bought one and I have to tell you it was not that hard to figure out. Even though the player came with really bad instructions and going over to there website was no help either. That was just to figure out how to use and charge the mp3 player. The salesman said all you have to do is rip the Cd's (we wanted to put our audio Cd's we just purchased on the mp3 player) to the windows media player and transfer to the mp3 player.

Well guess what I was able to figure it out with just that info. from the salesman, it was very easy to do. I just love that Lil mp3 player, to think we were going to buy a Walkman CD player to listen to the audio Cd's we bought. So glad hubby thought of the mp3 player, I never would have because of having to learn how to use it. Hubby is not good at all with electronics, so I have to be the one to figure all that stuff out for us. Our kids never have the time to help us, you know how that is.

Well I ordered one for me today I should get it in a few days. I have so much I want to put on mine I like to listen to Prim Talk Radio and it is hard because I am not always in front of my computer to listen in, but they let you download there program to an mp3 player now I wont miss a program. I can download audio's and music of course on it the possibilities are endless for me. I am going to have fun with my new toy it is a Sandisk Sansa mp3 player, I can hardly wait to get mine. My mp3 player has an FM radio and voice recorder built in, it also has a micro SD slot to add more GB to hold a lot more stuff if needed.

I got a better price ordering it from Buy.com they have great prices there. So if you ever thought of getting an mp3 player but were afraid they were hard to learn to use. They are not at all, if I can do it so can you. Sometimes you have to "Just do it" as the saying goes!!!

So back to working on my orders and getting ready for another show that's coming up way to soon!!! I need to build up more inventory Quick. I have a great friend Glenna that has convinced me in getting help for my business and not do it all myself. She has given me some good suggestions to help increase my production for this holiday season. So right now I am working on implementing her ideas which should increase my production. I will let you know how it all works out.
Goodnight,
Rosalie