First of all I want to apologize for my links on my blog not working. There is a major problem again with my web host. They still can't figure it out but are working on it I hope, that is what they are telling me. But it has been a while and it is still not working. Very very frustrating I say well that's enough with my venting.

Moving on to what has been going on around here we finally got a new Dish DVR System I know were a little behind on all this new technology stuff. Well the big box arrived on Friday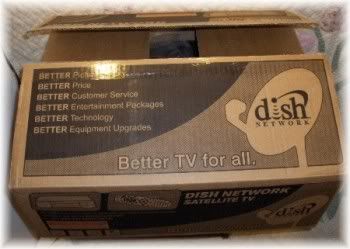 and guess who has the honors of hooking up all this stuff up. You guessed it me, my hubby is not good with all this new electronic stuff and my son never has the time to help us. So I am the one elected to do it well I have to say after about 3 hours working on it including having to call the Dish company twice (you know how long a phone call can take with these companys) because they turned off my other dish box that is connected to our other t.v. when I connected the new one. Then all of my channels did not come up on the new DVR so another phone call had to be made. Anyway I was proud of myself because I was able to get it all working. : ) Even if it took me a long long time to do it, it all works fine!!!

It is amazing what you can do with a DVR we should have gotten this thing a lot sooner. Well were having fun with our new DVR you can set it up to record a movie way in advance and it's easy to set it up to record. The machine just starts up all by itself and records the movie for you. Then you can watch it when you have the time not when it's playing on T.V. This thing will record up to 100 hours WOW!

Now getting back to business I just finished a custom order I had to share with you all because they came out so cute. It's a pair of Angie Ann & Tony Andy Raggedies named after there new owners. This pair of Raggedies do not have a coffee wash.




I enjoy making custom orders for my customers, they get to design what they want there Raggedies to look like and they also get to name them. I am pleased when they get excited over there custom order. Tony Andy is a cute new design for me.

I have joined a new shop called Dandelion Darlings the Grand Opening is April 1st. Dandelion Darlings will update every 1st of the month with new items. I will have my Raggedy Ann Dolls, Prim Signs and some OOAK items on there. I will post a link to my shop here on my blog when I get it. You can visit the site Dandelion Darlings and sign there mailing list for monthly updates and a monthly drawing.

I do have a lot of new plans for My Country Cottage/Raggedy Dollys for the coming year. I will keep you all posted here on my blog.

Thank You for stopping by for a visit!!!

Rosalie