Hi just wanted to share with you some of my Annies I made for my friend Glenna to take to her show aren't they all so cute!!!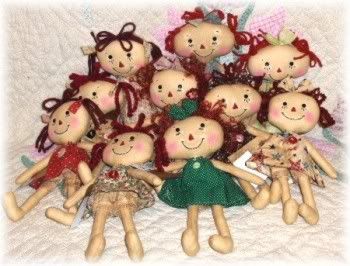 I had alot of fun making these cuties!!! I have alot of ideas for new styles for the annies and I got the chance to try some of them out on these annies. I got to dress them all differently. I handstitched all of them a different face and smile. I also gave them all a different hair style. It was fun to design them all differently. I will be making more of them soon, I have alot more ideas. I really enjoyed the chance to play!!!

This is a photo of some more Annies I just added to my website!!!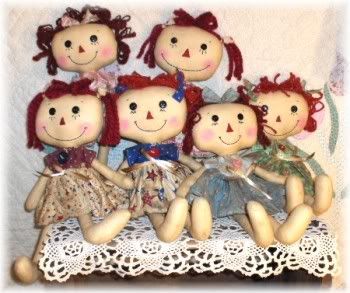 These Annies came out with the cutest lil faces and smiles!!! I am happy with how these all turned out. Click here Raggedy Dollys to go see them. These are my Annies lil sisters they measure 13" Well back to work for me I have alot of new ideas I want to get working on today!!!
Bye
Rosalie